I've written the music to accompany a silent film called Jane Shore. In doing a bit of research I came across this newspaper article from when it was first performed in Ealing 100 years ago.
Here's a transcript, and at the bottom is a scan of the article.
—
The Middlesex County Times, Saturday, May 8, 1915.
A Tremendous Panorama of Spectacular Magnificence.
The Masterpiece Of The Film World,
JANE SHORE
A Story Full of Human Interest, containing 250 Scenes and Miles of Wonderful Scenery.
Apart from the Enthralling Nature of the Story, this Film represents the most colossal achievement of the World's Film Trade.
FASCINATING and STAGGERING STATISTICS concerning the items used in the Film's Production.
6000 Atristes, 7 1/2 tons of Armour, 4,500 Battle Arms, 41 Special Trains, 13 cwts. of Snow, 342 Horses and Costumes, Values £7,000.
Showing MONDAY NEXT, May 10th, at the KINEMA, West Ealing.
Book Your Seats at Once.
Times of Showing – 2.20, 4.35, 6.50 & 9 p.m.
FOR ONE WEEK ONLY
—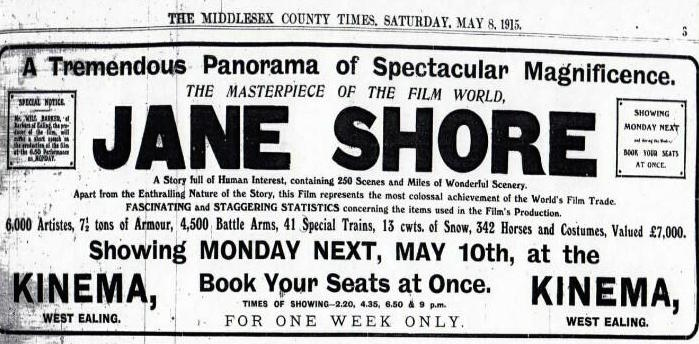 Our gig is on Friday at the Town Hall in Ealing. Starts 7.30pm.
I'll be playing piano, Mike Outram is on guitars and glockenspiel, Miriam Lowbury on Cello and Sophie Langdon on Violin.
All the details and more about this film are here at the Ealing Classic Cinema Club website. 
We finish at 9pm and then you're all invited to join us at the pub :)
Hope to see you there!