JANE SHORE (1915)
An original Ealing Studios film
With a specially commissioned score by Laura Rossi
Performed live by Orchestra Celeste
Laura Rossi was commissioned by Classic Cinema Club-Ealing to write an original score to the BFI silent 1915 film Jane Shore for the film's centenary.  Laura toured across the UK performing the new score live with film with her ensemble Orchestra Celeste at venues including BFI Southbank, Leicester Cathedral and the British Silent Film Festival.

Jane Shore was the first British epic, and one that rivalled the best productions coming out of Hollywood at the time. A cast of thousands is used to great effect by Will Barker (founder of Ealing Studios) in his ambitious version of the much-told story of Jane Shore – one of the many mistresses of King Edward IV who described her as one of "the merriest, the wiliest, and the holiest harlots" in his realm!
'We are excited about reviving this BFI classic Ealing film, described as the British answer to 'Birth of a Nation', for its centenary. The BFI has made a stunning new print of the tinted version which was recently discovered in their archives and hasn't been seen for 100 years. ' Classic Cinema Club-Ealing
'It's a rare chance to see this early classic on the big screen.' BFI
Laura Rossi – Jane Shore UK Tour
February 27th: Ealing Town Hall (PREMIERE), 7.30 PM
February 27th: Ealing Town Hall, Schools performance & Masterclass, 2.00 PM
March 24th: Duke of York's Cinema, Brighton, 11.00 AM. Box Office 0871 902 572
April 15th: Arts Picture House, Cambridge, 6.30 PM. Box Office 0871 902 5720
April 17th: BFI Southbank, London, 6.30 PM. Box Office 020 7928 3232
April 22nd: Abbeygate Cinema, Bury St Edmunds, 6.30 PM. Box Office 0871 902 5722
May 14th: Cinema Museum SE11, 7.30 PM. Box Office 020 7840 2200
May 22nd: Teignmouth Film Society, Devon, 8.00 PM.
May 24th: Exeter Phoenix, Devon, 8.00 PM. Box Office: 01392 667080

About the Project
Classic Cinema Club-Ealing commissioned Laura Rossi to write a new score for the film's centenary and was awarded a PRS for Music Foundation grant. The premiere performance took place almost 100 years to the day to a full house in Ealing Town Hall. Take a look at the original 1915 advert for the film from the Middlesex County Times. Note the 'Fascinating and Staggering Statistics'! and that it was shown four times a day for a week, '6000 Artistes, 71/2 tons of Armour' etc.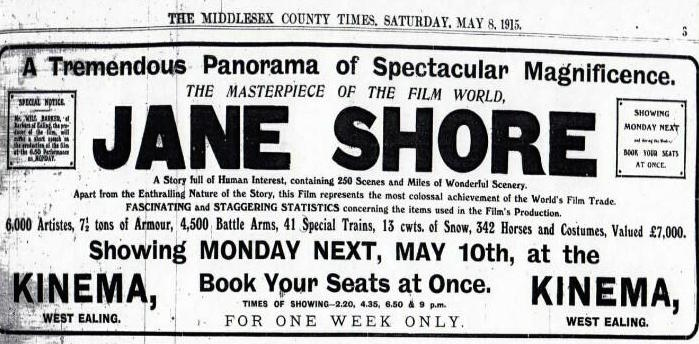 PRESS
REVIEWS

A sumptuously tinted print, and a deft and lyrical accompaniment from Rossi and ensemble gave a real sense of immersion into the film's picture-book world, this was a precious moment.' Pamela Hutchinson, Silent London

'An engaging sonic narrative of depth and invention. instantaneously engaging music which greatly enhanced the cinematic experience. A true soundtrack that was melded to the century-old "text" and which helped the audience connect…a precious example of early British cinematic sophistication.' Paul Joyce, Ithankyouarthur.blogspot
About Orchestra Celeste

Laura Rossi: Composer, Piano & Electronics.
Laura Rossi is an acclaimed film composer with extensive film and television credits including London to Brighton, The Cottage, Song for Marion, The Eichmann Show, and silent films including The Battle of the Somme (IWM) and Silent Shakespeare (BFI).
Mike Outram: Electric & Acoustic Guitar, and Glockenspiel
Mike Outram is a guitarist and improviser. He has toured internationally with Herbie Mann, Carleen Anderson, Tim Garland and Theo Travis; recorded with Steven Wilson and Robert Fripp, and is Guitar Professor at Trinity College and The Royal Academy, London.
Sophie Langdon: Electric Violin
Sophie Langdon is one of Britain's leading violinists. Her career encompasses concerto performances and recordings with major orchestras including the BBC Symphony Orchestra, Royal Philharmonic and the Philharmonia as well as solo performances, chamber music, orchestral leading and directing. She also features on many film scores.
Miriam Lowbury: Cello
Miriam Lowbury has toured widely, played on radio and TV, and appeared with artists including Raphael Wallfisch, Jack Brymer, Peter Donohoe, Michael Collins, and Julian Jacobson. In addition to playing as guest or principal cellist in chamber groups and orchestras in the South of England, Miriam is a regular freelancer in many London orchestras including with the BBC, ENO and CLS.
Bozidar Vukotic: Cello
Bozidar Vukotic is a founder member of the Tippett Quartet and performs regularly at the Wigmore Hall, on BBC Radio 3, and throughout Europe. He has recorded extensively for Naxos, EMI Classics, Classic FM Records and is guest principal with orchestras, including the Royal Philharmonic Orchestra, Royal Liverpool Philharmonic Orchestra, English Chamber Orchestra and London Chamber Orchestra. He teaches at the Royal Academy of Music.
Mike Eden is a filmmaker, AV artist, technician and producer. He has worked with Tate Britain, Sadler's Wells, BBC, Paramount, Pepsi, Prince William, Royal Opera House, EMI Apple Records.
Notes to Editors:
For press information and images, contact Laura Rossi here
For more details about the music and tour go to: www.laurarossi.com/janeshore
For more details about the film go to: http://explore.bfi.org.uk/4ce2b6ad7e27c
We gratefully acknowledge financial support from PRS for Music Foundation's Women Make Music Programme, and The Arts Council, England. Also many thanks to all at the British Film Institute for the film restoration, and Classic Cinema Club Ealing for commissioning the score.