SILENT SHAKESPEARE WITH LIVE MUSIC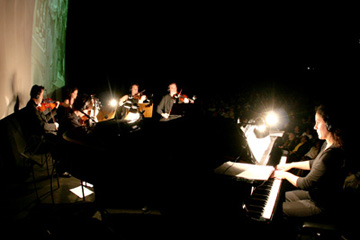 "A rare opportunity to see these beautiful early films which are now much too fragile to project." Martin Scorsese
'Silent Shakespeare' a BFI collection of 7 short films from the USA, England and Italy scored for Piano, Guitar and String Quartet. We have previously screened them with live music in cinema's across the UK, Belfast, Madeira and Sao Paulo film festivals and at The Globe, London.
With the text so central to Shakespeare's work the very phrase 'Silent Shakespeare' seems a contradiction in terms. But in the early years of cinema, a number of exquisite silent film adaptations of Shakespeare's work were made, with the narrative delicately conveyed through looks, gestures, and silent film's nearest approach to dialogue, the inter-title. The films – from Britain, Italy and the USA – have survived for almost a century, and include beautiful examples of hand stenciling and tinted prints, wonderfully demonstrating the exuberance, invention and conviction of these early filmmakers and the possibilities of the Shakespearean text.
The films on Silent Shakespeare:
King John (GB 1899), The Tempest (GB 1908), A Midsummer Night's Dream (USA 1909), King Lear (Italy 1910) , Twelfth Night (USA 1910), The Merchant of Venice (Italy 1910), Richard III (GB 1911).
Total running time: 88mins
Scored for Piano, String Quartet and Acoustic Guitar.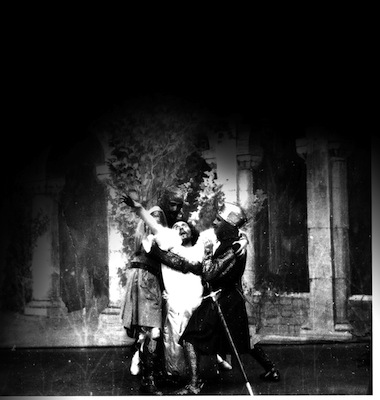 Critical acclaim for Silent Shakespeare:
'Laura Rossi has composed a hauntingly atmospheric accompaniment to the seven Silent Shakespeares featured on this tape. Under Rossi's direction,   the mood sweeps through a spectrum of spine-tingling emotions, encapsulating the drama and poetry of each tale.' – British Film Institute.
'Watching them – hearing the cellos and violins, the piano solos – becomes a dream-like experience' – Nicci Gerrard, The Observer.
'Fascinating! Painstakingly restored…A priceless document in the history of both Shakespearean acting and the cinema' – Daily Telegraph.
'an attractive collection… vigorous… charming…', – Sir Richard Eyre.