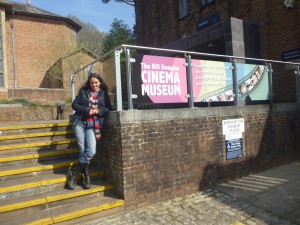 Spent the morning at the Bill Douglas Museum in Exeter.
It's a brilliant museum – well worth a visit and was amazed to find the original 1915 Jane Shore programme! Gave me a great insight into how the film was presented 100 years ago. They interestingly present the story as true facts when actually some of it is fabricated.
Wondering if 100 years ago there was less info on Jane Shore, so possible that this was really thought of as the true story..
N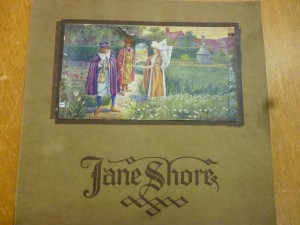 eed to read through it all again and will use it help write the programme notes for the Jane Shore tour 100 years later. (See below for tour dates).
Phil Wickham, the museum curator, was really helpful and dug out some stills from the film and let me browse through the  documents – fascinating stuff and great to actually hold the hundred year old brochure..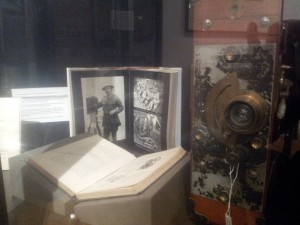 Also spotted JB McDowell's camera that filmed The Battle of the Somme (can't believe it is sitting in a museum near my hometown in Devon after spending months researching the Somme!)
The museum has a huge collection from pre-cinema to the present day (shadow-puppets and magic lanterns to rare books, prints and publicity materials).
Loads of interesting stuff – if you've not been you're missing out.
Visit them here: http://www.bdcmuseum.org.uk/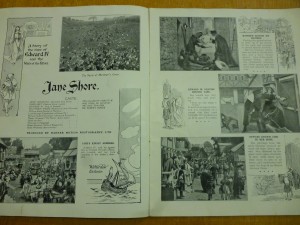 Here are the tour dates. Please come along.
April 15th: Arts Picture House, Cambridge, 6.30 PM. Box Office 0871 902 5720 [flyer]
April 17th: BFI Southbank, London, 6.30 PM. Box Office 020 7928 3232 [flyer]
April 22nd: Abbeygate Cinema, Bury St Edmunds, 6.30 PM. Box Office 0871 902 5722 [flyer]
May 14th: Cinema Museum SE11, 7.30 PM. Box Office 020 7840 2200 [flyer]
May 22nd: Teignmouth Film Society, Devon, 8.00 PM. [flyer]
May 24th: Exeter Phoenix, Devon, 8.00 PM. Box Office: 01392 667080 [flyer]