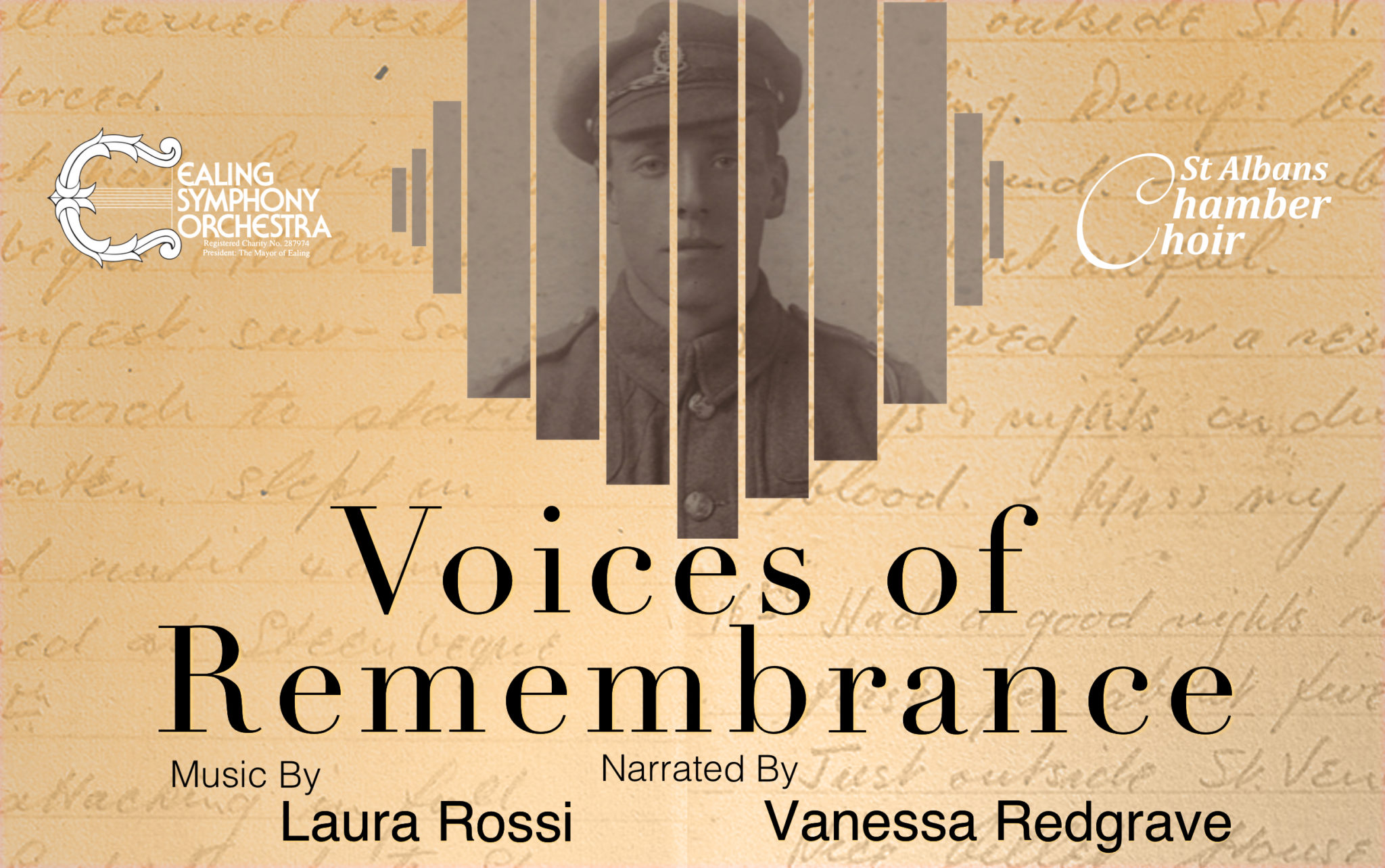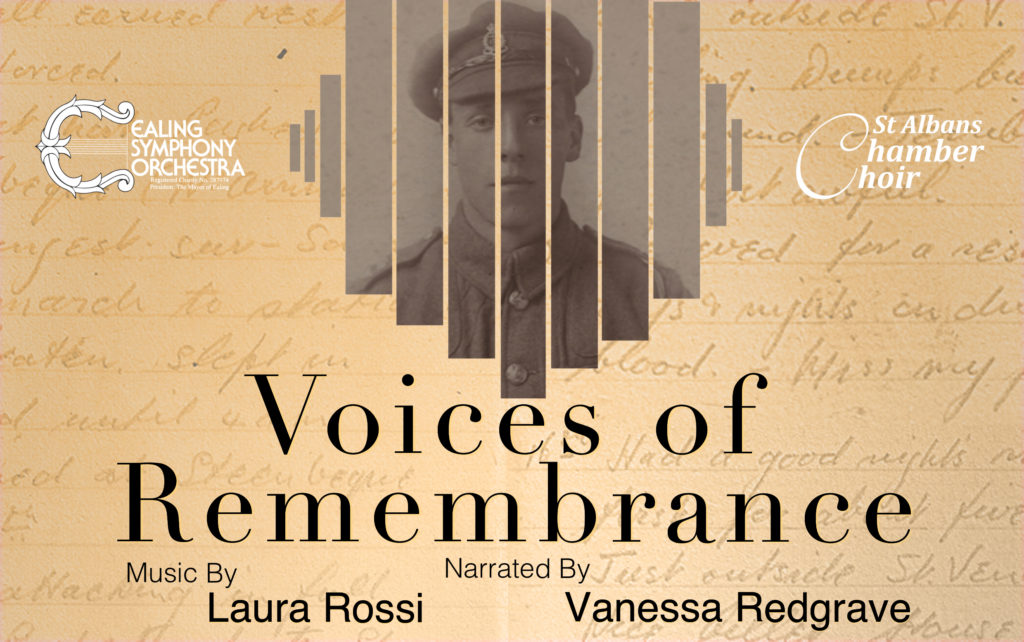 Featuring poetry readings by Vanessa Redgrave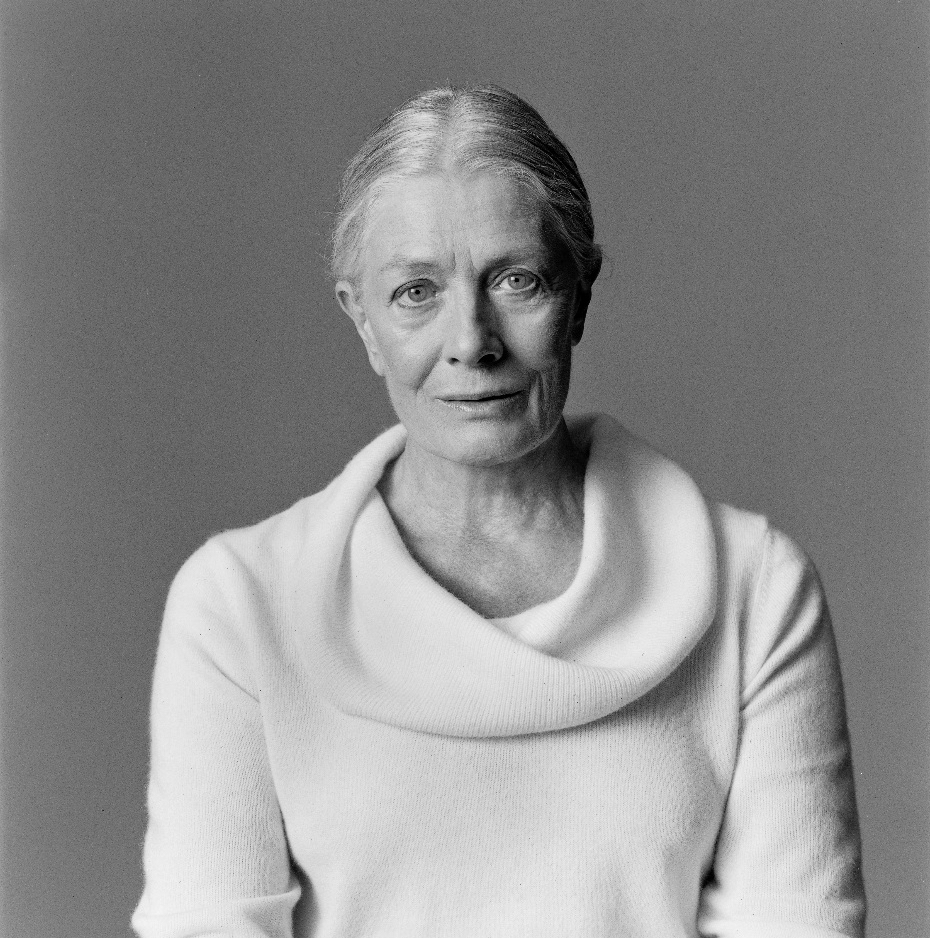 Music by Laura Rossi
Performed by St Albans Chamber Choir & Ealing Symphony Orchestra
Conducted by John Gibbons
BUY TICKETS – CLICK HERE or call Ticket Source – 0333 666 3366
£25 First 4 rows / £18 Regular seats / £10 (under 25s & OAP's)
All proceeds go to Help for Heroes and Safe Passage.
The concert will commence at 7pm with the national church bells 'ringing out for peace' for VE Day 75, followed by 75 minutes of music. After the concert, you are welcome to join the choir and orchestra for a VE Day party in a nearby venue. Details TBC
Voices of Remembrance is an orchestral/choral work inspired by 10 of the most famous poems of the First World War. During her research for the score for The Battle of the Somme for the Imperial War Museum, Laura discovered that her Great Uncle Fred was a stretcher-bearer attached to the 29th Division during July 1916, who featured in the film. Drawing on these experiences and extensive research on the First World War, Laura has created a richly evocative work that combines stunningly beautiful music with these historically important poems. We are delighted that Vanessa Redgrave will be performing the readings at this concert.
Event Produced by Carole Crane whiteandgreen.co.uk & Peter Robertson.
Listen to a short excerpt from the CD: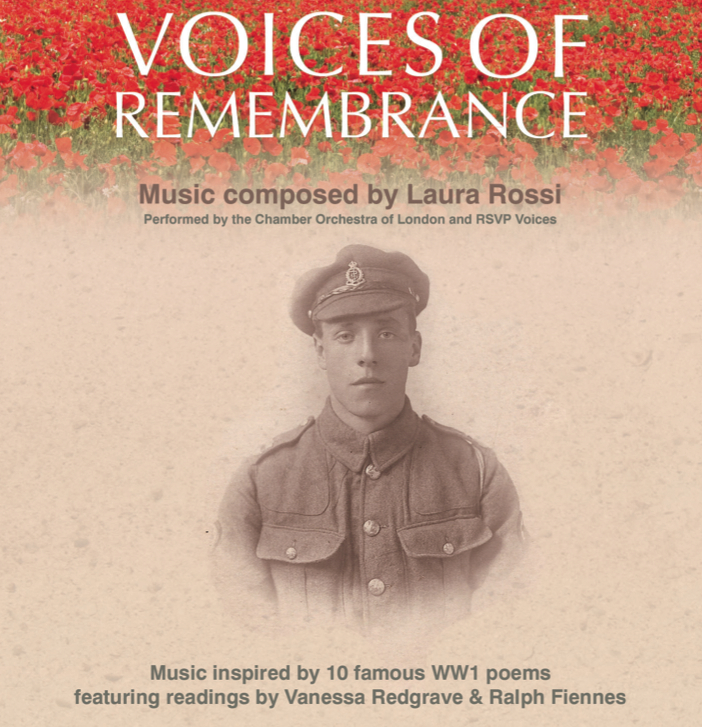 Music composed by Laura Rossi
Readings by Vanessa Redgrave and Ralph Fiennes
Performed by The Chamber Orchestra of London and RSVP Voices, Conducted by Alastair King
Recorded at Angel Studios, London, Engineered by Steve Price, Mixed by Iain Roberton
Available on iTunes,  Amazon and Spotify
To listen to the album click here
To buy the CD go to: http://www.boosey.com/
To hire the score or view online go to: http://www.boosey.com/




For more details about Voices of Remembrance + to buy the CD click here